Commercial Ground-Mounted Solar Panel Systems
Commercial Ground-Mounted Solar Panel Systems

Commercial Ground-Mounted Solar System
Base Price List & Information
System
50 KW
75 KW
100 KW
250 KW
500 KW
1,000 KW
REC
Canadian Solar
$54,625
3,526 sq. ft.
$80,512
5,288 sq. ft.
$106,400
7,051 sq. ft.
$277,200
17,628 sq. ft.
$537,600
35,256 sq. ft.
$1,019,200
70,513 sq. ft.
Trina
Silfab
Q Cells
$54,625
3,274 sq. ft.
$80,512
4,911 sq. ft.
$106,400
6,548 sq. ft.
$277,200
16,369 sq. ft.
$537,600
32,738 sq. ft.
$1,052,800
65,476 sq. ft.
Panasonic
Mission Solar
$63,250
3,342 sq. ft.
$93,225
5,013 sq. ft.
$123,200
6,684 sq. ft.
$319,200
16,710 sq. ft.
$593,600
33,420 sq. ft.
$1,131,200
66,840 sq. ft.
Providing Commercial Ground-Mounted Solar Systems since 1996 to all 50 states and beyond the USA.
At Solar Electric Supply, we are committed to providing superior components and service for all of our commercial ground-mounted solar panel system projects.
Additional Services Available
System Design, Material Selection Guidance
System Upgrades, Retrofits, Production Reallocation
Permit Submittals, Engineering resource and referral program
Utility Interconnection Agreement application assistance
Installer and Project Referral program.
Pole Mounted, Ballasted and Low-Profile Solar Systems and Solar Farms.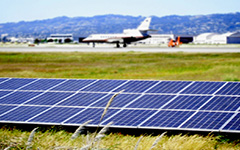 LOW-PROFILE
Easy installation
Solar footings as shallow as 30"
One of the lowest cost options
Uses standard Schedule 40 pipe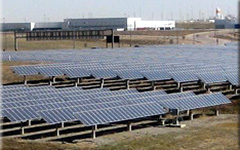 MULTI-POLE ADJUSTABLE
Low footing penetration count
Easy installation
Minimal local materials
Seasonally adjustable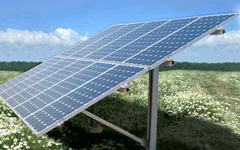 LOW PENETRATION
Shallow footing penetration
For large & small solar systems
Pre-fabricated - Easy installation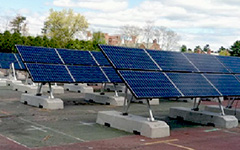 SELF-BALLASTED
When digging is not an option
Rugged and easy to install
Good for marsh wet land
Used by the US National Guard
Includes concrete ballast footings
We offer the most cost effective and easy to install ground mount solar panel systems for all types of PV power applications. Many of the ground mounting solutions we carry enable quick installations, contain aluminum and stainless-steel components for strength and corrosion resistance, are aesthetically pleasing, and are compatible with the most types of solar modules.
We are a wholesale distributor for popular ground mounting solar system options like the: IronRidge Integrated Grounding System , DPW Power-Fab Multi-Pole PV Mounting (MPM-G2) System, Prosolar GroundTrac, Unirac Ground Mount ULA and Polar Racking ballasted and penetrated systems. Ballast mounting is ideal for solar projects where trenching or digging is not an option.
Manage the project yourself.
Save thousands of dollars!
Buy at low wholesale direct prices
from Solar Electric Supply
Toll-Free: (877) 297-0014
Popular solar panels by manufacturers like REC, QCELLS, Silfab, Trina, Canadian Solar , Mission Solar among many others. Rugged and dependable grid-tie inverters by SMA, Eaton, Solark, SolarEdge, Enphase, Solectria and more. We have chosen these manufacturers because they maintain high quality products, positive history, proven cost effectiveness and high customer focused value.
Our friendly and knowledgeable staff is here to answer your questions. Feel free to give us a toll-free call.
SES offers both packaged and custom complete systems for general or solar contractors looking for a low price on quality components that offer true product satisfaction and value. With us, you will find the the highest quality solar panels, grid-tie inverters, and system components at a low wholesale discount price for your next ground-mount solar system or solar farm.
All systems can be customized!
Different ground mount, module, inverter and voltage options are available, all at low wholesale prices.
Contact us toll-free at (877) 297-0014 for low wholesale pricing and expert reviews.
All commercial ground-mounted solar systems include:
Underwriters Laboratory (UL) Listed Solar Panels
UL Listed Grid-Tie Solar Inverters from trusted, established manufacturers
Quality Engineered Ground Solar Mounting System for your specific ground type; small businesses to solar farms
Balance of System Items: solar combiners, grounding, disconnects and related hardware
Single and Three-Line Schematics
Stamped Testing Reports for your specific solar mounting system
Solar Electric Supply's experienced professional team can assist you every step of the way.
Solar financing assistance, system return on investment reports, solar SREC (PBI) performance-based incentive investigation, installation referral and solar technical training, financial analysis (ROI) solar interconnection, net-metering application assistance and on-site project management.
Contact Our Friendly, Knowledgeable Staff
You can speak with an experienced, knowledgeable and friendly representative with a simple phone call. Contact us toll-free at (877) 297-0014 and someone will be happy to help you with all aspects of the design, system cost and rebate incentives for ground-mounted commercial solar systems.