Large Skid-Mounted Portable Solar Generator Systems

Large Skid-Mounted Portable Solar Generator Systems
RD Series portable skid-mounted solar systems with battery storage for remote backup power.
Drop-in, plug-in solar power wherever you need it.
Portable or fixed, off-grid or grid-connected, the MAPPS® RD Series provides reliable backup power in remote locations. The RD Series skid-mounted solar generator systems are quick to deploy and are designed for your specific load requirements.
Do you have a critical remote or grid-connected electrical load? Do you need a simple, reliable backup power source you can quickly get up and running on any site? Are you tired of paying the high cost of fueling and maintaining your remote generating facility? Then you need to check out the advantages of our portable solar systems like our self-contained Rapid Deployment RD Series solar plus storage systems.
SES MAPPS® RD Series are pre-assembled, pre-wired and tested skid-mounted portable solar generator systems that provide rapid deployment power for remote areas where conventional power is too costly or difficult to reach. The RD series can also be used to provide backup power for residential or commercial grid connected critical load applications.
SES MAPPS® RD Series systems represent the highest standards of reliability, component selection, workmanship and system performance.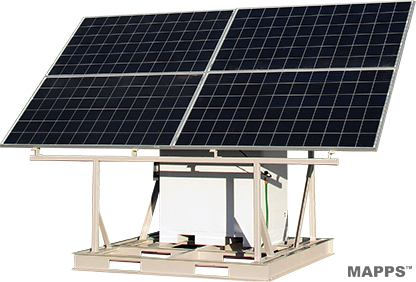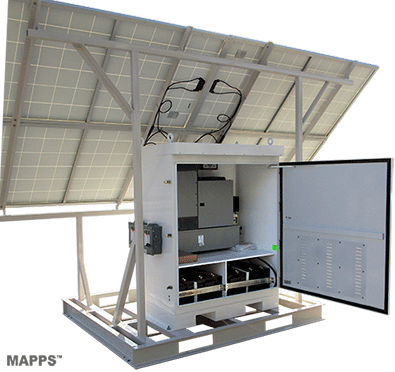 Remote Site Applications
Environmental remediation
Mid-size telecommunication relays
Data acquisition
RFID sensors
Cathodic protection
Weather monitoring
Telemetry
Tower obstruction LED lighting
Disaster relief
Emergency communications
Rural habitation
MAPPS® pole mount solar systems are also available.
Grid Connected Backup Power Applications
Critical Residential Power Backup
Critical Commercial Power Backup
Utility Blackout Power Outage Backup
Natural Disaster Backup Power
System can sync with backup genset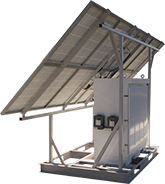 The Solar Electric Supply technical services team offers:
Thorough project evaluation
Expert engineering and design
Proprietary computer modeling
Portable Power for Remote Sites
RD Series Rapid Deployment systems can be mounted on trucks, trailers or skids, so you can take them anywhere you need power, fast. Because everything is designed for uncomplicated "plug-and-play" performance, they are an ideal portable solar power system solution. they can also be quickly set on a roof or even on top of a mountain!
Power for Critical Grid Connected Loads
RD Series are designed to integrate with grid power and backup generators providing critical power during emergencies or power outages. They can be integrated with existing grid tie PV systems to provide additional backup power. Our advanced battery storage systems are maintenance free and long lasting.
Pre-wired for Fast Assembly
All internal RD Series components come pre-wired with full system controls, power distribution and complete circuit protection equipment for rapid on-site assembly. RD Series systems also include UL Listed components-integrated to NEC standards that are fully factory tested. Our systems can also be UL Listed for custom applications.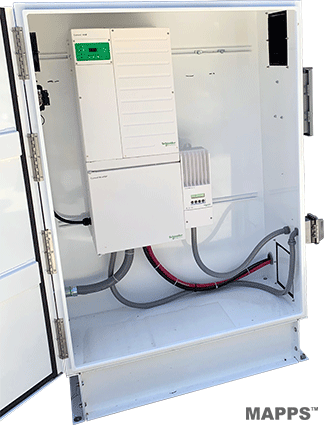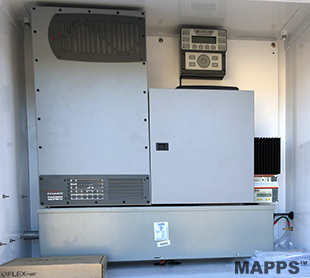 Need guaranteed continuous power? No problem.
Hybrid RD Series systems can easily accommodate an optional propane or diesel generator to provide continuous power regardless of changes in electrical loads or site weather conditions. If you have other equipment-including 19" to 23" relay racks-you'd like built into your MAPPS™ RD Series enclosure, just let us know.
Combine an optional generator with one with our RD Series for:
Improved economics
Lower initial costs
Increased reliability
Design flexibility
Redundant power sources
Smaller system footprints

All of our MAPPS® RD Series systems include:
High efficiency solar modules
Long-life, maintenance-free, sealed gel-cell or AGM non-spillable batteries - Advanced Lithium Ion batteries are also available.
Outdoor Aluminum enclosure for storage system and electronics
Skid based design
Pre-wired control system with metering and low voltage load protection
Temperature compensated charging and metering
Optional DC to AC inverters and battery chargers and DC to DC converters
Pre-wired power distribution and circuit protection for fast installation
Simple installation/operations manual and complete system schematics
Up to 25-year warranty on solar modules and a full 12 months on the complete system
We have the portable solar generator system that's right for you.
We offer a range of standard RD Series systems to match most common applications. Custom solar systems are also available.
We offer a range of standard MAPPS® systems to match most common applications.
Custom systems are also available.
All RD Series portable solar system components are rugged, proven in the field, and designed for long system life.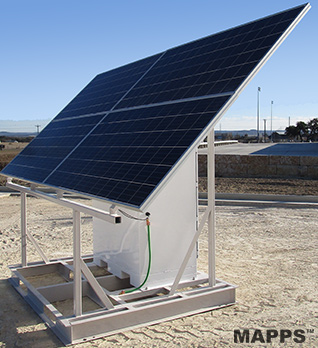 Contact our industrial sales group at (877) 297-0014 for expert assistance.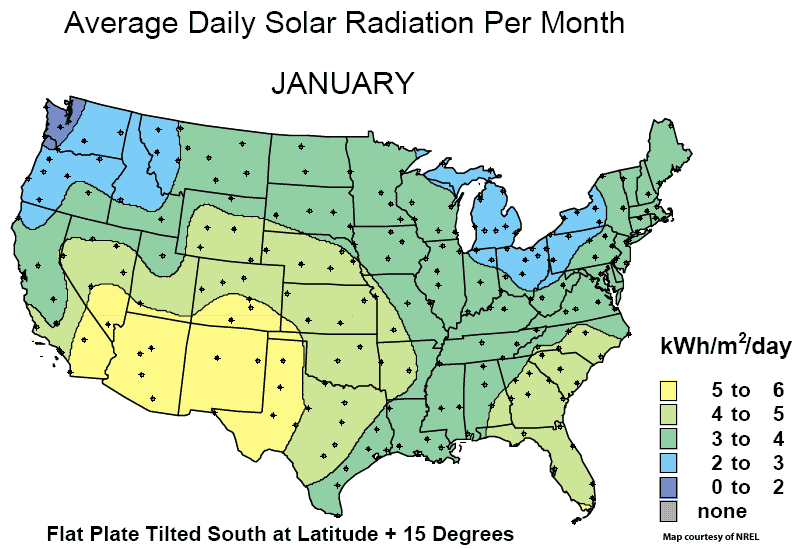 Related Product Information
Solar Electric Supply specializes in supplying dealer, contractor, government and industrial accounts worldwide with reliable, cost-effective solar generator solutions.