Sloped-Roof Mounted Residential Solar Panel System Discount
Sloped Roof Solar Systems
Residential solar systems for all types of sloping roofs with many mounting options.

Residential solar systems for all types of sloping roofs with many mounting options for composition shingle roofs, curved tile, Spanish tile, flat concrete tile, and all types of metal roofs. Whether your a professional residential contractor or a DIY (do-it-yourself) property owner, we have the experience and solar system components for any project. We carry solar panels and sloped-roof solar panel mounting solutions from established manufacturers. Grid-tie inverter choices include string inverters, micro-inverters and power-optimized inverter systems for our sloped-roof residential solar systems. Please contact us toll-free at (877) 297-0014 for professional assistance.
Contact us toll-free at (877) 297-0014 for expert reviews.
Residential Sloped-Roof Mounted Grid-Tie Solar Power System Information
Composition Shingle Roof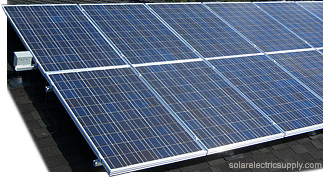 Composition Roof Mounting Options
Mounting options for any roof type
Solar Stanchions for any roof type
Flashed and non-flashed
Stamped engineering available
Most systems will not void your roof warranty
Solar layout design available
Standing Seam Metal Roof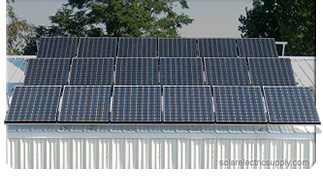 Metal Roof Mounting Options
Narrow standing metal seam
Wide standing metal seam
Corrugated metal roof mounts
Copper roofs
Virtually any sloping metal roof
Tile Roof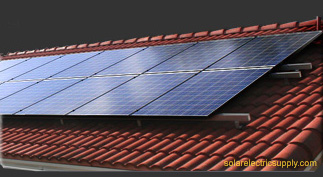 Curved and Flat Tile Mounting Options
Tile hooks for curved and flat tile
ProSolar Tile Tracks
Quick Mount PV Tile Hooks
Flashed and non-flashed sloping tile roof mounts
Our Most Popular Sloped-Roof Solar Systems:
Complete Sloped Roof Solar Systems for Any Home at Great Prices
Perfect for the contractor or handy homeowner / builder working with an electrician.
We assure our customers that the sloped-roof mounting system is ideal for your roof. Whether your sloping roof is composition shingle, tar and gravel, standing-seam metal, wood shingle, membrane or even concrete, Solar Electric Supply has relationships with reputable roof mount manufacturers like ProSolar, SnapNrack, Schletter, Unirac and Quick Mount PV. These manufacturers maintain track records of high quality products, positive history, proven cost-effectiveness, and high customer focused value all at a discount system price.
SES offers both packaged and complete custom systems for the DIY homeowner or contractor looking for low priced systems and components that offer true product satisfaction. You will find some of the more popular manufacturer's solar panels, grid-tie inverters, and system components at a low price for your sloped-roof mounted residential grid-tie solar panel system.
All systems can be customized!
Different module mount, module, inverter and voltage options are available.
Manage the project yourself.
Save thousands of dollars!
Buy at low wholesale direct prices
from Solar Electric Supply
Toll-Free: (877) 297-0014
State and Federal rebate incentives are available.
Many states and municipalities offer significant incentives to encourage installing a solar system. Federal tax incentives are also available. Click here for more incentive information. All systems we carry follow the strict guidelines set by government agencies for incentive eligibility. These systems are specifically designed to meet all rebate incentives offered by many states. We provide all of the necessary documentation for inspection.
Generous solar system rebates are available for California, Colorado, Florida, Maryland, Massachusetts, Minnesota, New York, Nevada and New Jersey. We help relieve high energy rates with solar power in Hawaii, Bermuda, Guam, American Somoa, Fiji, Tahiti, Micronesia and Marshall Islands. Systems can be engineered for these rebate incentives at a very competitive discount price.
Installing a solar system doesn't have to be expensive. In fact, there are several programs available to help you save thousands on a complete solar system from Solar Electric Supply.
Would you like this system installed?
Please fill out our quote form for details on installation through one of our authorized installers in your area.
Contact Our Friendly, Knowledgeable Staff
You can speak with an experienced, knowledgeable and friendly representative with a simple phone call. Contact us toll-free at (877) 297-0014 and someone will be happy to help you with all aspects of the design, system cost and rebate incentives for your sloped roof mounted solar system.