ProSolar RoofTrac Solar Panel Roof Mounting Rails
ProSolar RoofTrac
Low-profile top-down solar panel roof-mounting solution by Professional Solar Products.


The RoofTrac® solar panel mounting system is a patented top-down roof mounting solution designed and manufactured with the installer in mind. This innovative design incorporates anodized lightweight aluminum components to allow for maximum transportation and installation efficiency. The lightweight nature of the aluminum rail utilizes the basic laws of physics to create structural competence rather than just bulking up the rail in height adding unnecessary and costly aluminum. With this design, the RoofTrac system system holds a very low-profile look that typically outlasts the life of the solar panels mounted to it.
The clamping system consists of end clamps and mid clamps to attach the module frame to the Roof Trac support rail. This fully integrated clamping system actually changes the structural properties of the aluminum channel making it significantly stronger. This design allows solar modules to be installed at a lower profile to the roof, providing a more aesthetically pleasing installation. Module clamps are specifically designed, extruded and engineered for each specific module frame. ProSolar's innovative clamping system provides inward tension on the module frame securing the laminate in the frame. Channel nuts slide easily into position to hold the end clamps and mid clamps.
The RoofTrac solar panel roof mounting system has been load-tested and engineered to 125mph wind load (50 lbs/square foot of pressure load) for most module types. Roof Trac secures the solar panels and prevents damage caused from high-winds and seismic forces. The Roof Trac support rail was designed to conceal all attachment hardware. All connections are made inside the support rail hidden from view. All exposed aluminum is fully anodized to module manufacturer specifications. The Roof Trac rail must be drilled on site for connection to Tile Trac or Fast Jack mounting attachments.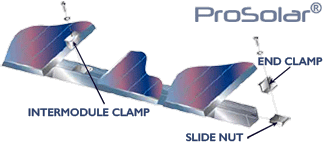 The fully integrated, and patented, clamping RoofTrac system actually changes the structural properties of the aluminum channel making it significantly stronger. This provides a reliable solar panel mounting system that has a very low profile.
---
Mounting RoofTrac Rails to ProSolar TileTrac
The patented RoofTrac® rail/clamp system installed with the TileTrac® attachment method provides an ideal solution for mounting on a flat or curved concrete tile roof. TileTrac reduces the possibility of broken tiles and leaking roofs, allowing the installer to make structural attachments to the roof rafter. RoofTrac® installed with TileTrac® allows the height of the solar support rails to be adjusted to compensate for uneven roofs.
Learn more about ProSolar TileTrac.
Mounting RoofTrac Rails to ProSolar FastJack
The patented RoofTrac® rail/clamp system installed with the FastJack® attachment method provides an ideal solution for installations where a flashing is desired. The FastJack® is also the solar industries preferred method of attachment for new construction roofs.
The FastJack® attachment provides a quick and strong installation solution. Patented design places the bolt directly under the stanchion post where the most support is offered. This feature allows standard roof flashings to lay flat on the roof deck.
Removable post allows standard flashings to be slipped over the base without damaging delicate surrounding composition shingles.
Learn more about ProSolar FastJack.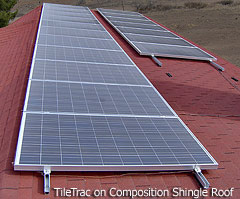 Installers have found the Short Stud TileTrac practical for low-profile mounting on an existing composite shingle roof with RoofTrac.
---
---
RoofTrac Details
UL 2703 listed, Class A fire rated, self-bonding, patented racking system
Typically installed on sloped residential roofs
Featuring RoofTrac skirt and RoofTrac Rail Clamping Technology
4 ft on center span with 1-1/2" tall RoofTrac® rail (6 ft on center with 2-1/2" rail)
Each Standard and Deep Rail system engineered and load tested to 45 lb/sq. ft.
(equivalent of 125 mph winds per 2013 CBC / 2012 IBC / ASCE 7-10)
Designed for use with ProSolar FastJack or TileTrac attachments.
RoofTrac Certifications
2016 UL2703 (5000 amp bond tested)
UL System Fire Class Rating A, Type 1 & 2 Modules
2016 California Building Code
2015 International Building Code
ProSolar GroundTrac Mounting System Parts


Universal Self-Bonding Splice Assembly

Self-Bonding Mid Clamp Assembly


Module Bonding Mid-Clamp Bonding Nut

End Clamp Bonding Channel Nut

FastJack E-Series 2", 3", 4.5" & 7.5"

FastJack E-Series Flashing

Flashing stamped with "TileTrac USA"

Ilsco SGB-4 Grounding Lug

Decorative Front Skirt & Clamp Set

Microinverter/Optimizer Bonding Channel Nut
Complete roof-mounted solar panel systems available at low wholesale prices.
Contact us toll-free: (877) 297-0014 All solar systems can be custom designed.
Contractor Discounts Available

Contact us for sales, reviews and low wholesale prices for ProSolar RoofTrac.