Silfab Solar Systems
Silfab Solar Panel System Prices
Featuring the latest Silfab solar panels, SolarEdge or Enphase and your choice of roof or ground mount.
Contact us toll-free at (877) 297-0014 for reviews, low priced custom options and expert advice.
PRICES LISTED ARE MSRP
Many substantial discounts are available:
Contractor Discount
DIY Discount
Veteran/Active Duty Military Discount
Farm/Ranch Discount
Group/Neighbors Discount
Contact us for the lowest price! (877) 297-0014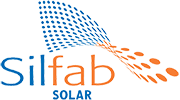 Silfab Solar All-Black Monocrystalline
Roof-Mounted Solar System Prices
| | | | |
| --- | --- | --- | --- |
| Panel Dimensions | Watts / Sq. Ft. | STC Rating | PTC Rating |
| 65.0in X 39.0in x 1.5in | 17.61 | 310.0 Watts | 279.8 |
| Panel Part Number | Frame Color | Module Origin | Power Tolerance |
| SLA-M 310 | Black/Black | USA | 0 / +5W |
System Power

# of
Panels

Base Price


Grid-Tie Inverter
Array
Area
SolarEdge
MSRP
Enphase
MSRP

More Info

Comments
5.58 KW

18

SolarEdge HD Wave SE5000H-US
317ft2
$10,028
$10,642
Systems feature the Silfab SLA-M 310 solar panel.
6.20 KW

20

SolarEdge HD Wave SE6000H-US
352ft2
$11,018
$11,728
Prices listed are MSRP. Contact us for applicable discounts and lowest price.
6.82 KW

22

SolarEdge HD Wave SE6000H-US
387ft2
$11,939
$12,815
All SolarEdge systems include Power Optimizers.
7.44 KW

24

SolarEdge HD Wave SE7600H-US
422ft2
$13,197
$13,901
Includes complete engineered solar system plan-sets for permit submittals!
8.06 KW

26

SolarEdge HD Wave SE7600H-US
458ft2
$14,118
$14,988
StorEdge compatible energy storage upgrade available. Contact us.
10.23 KW

33

SolarEdge HD Wave SE10000H-US
581ft2
$17,880
$18,791
Choices include SnapNrack or IronRidge Roof Mount in the list price.
11.16 KW

36

SolarEdge HD Wave SE10000H-US
634ft2
$19,262
$20,421
Ground mount also available at a low wholesale price.
12.40 KW

40

SolarEdge HD Wave SE11400H-US
704ft2
$21,285
$22,594
Contractor discounts available!
14.88 KW

48

SolarEdge HD Wave SE11400H-US
845ft2
$24,970
$26,940
Contact us for Silfab solar panel systems larger than 15 KW.
What's included in the solar system cost?
Photovoltaic solar modules
Many choices of grid tie inverters
Many choices of mounting rails and clamps
Solar MC cables
Grounding lugs
Array combiners in larger systems
AC/DC solar disconnect
Site specific electrical single and three line schematics
AC/DC wire sizing/type will be specified in our electrical schematics
CA stamped structural testing reports for Prosolar mount system
Component installation manuals
Technical assistance

What's not included?
Solar System Tilt-up Kits for flat roofs
Additional hardware for landscape-oriented arrays
Standard conduit, ground and tie-in wiring and landing breakers
Additional load-center hardware, breaker boxes, etc.
Large Reseller & Contractor Discounts Available.
Whether solar system design or complete pre-designed systems, you can count on Solar Electric Supply. We always strive to provide quick service, honest reviews and low wholesale discount sale pricing.
Contact us toll-free at (877) 297-0014 for the latest low wholesale price on any Silfab residential solar system.
Roof-Mounted Solar System Prices