GNB ABSOLYTE BATTERIES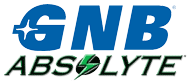 The Absolyte battery was developed by GNB Industrial Power in conjunction with Sandia National Laboratories. This was the first VRLA AGM, large capacity deep cycle battery with extended partial state-of-charge operation. It allows for deep discharge recovery. Their wide band of temperature operation, from -40°C (-40°F) to +50°C (122°F) retains more capacity in cold temperatures than traditional flooded batteries. Life expectancy in float condition is 20 years @ 25°C (77°F) with proper charging. Life expectancy in cycling conditions is 1200 cycles to 80% DOD with proper charging. Sealed cells with absorbed glass mat (AGM) separators eliminate the need for periodic water additions as found in flooded cells. Periodic visual inspections, voltage readings, and connection retorquing are all that is required.
We carry the latest GNB Absolyte GP line of AGM battery modules, replacing the Absolyte II series.
Read more information and our review of GNB Absolyte Batteries ...