Sloped Roof Commercial Building Solar Panel Systems
Sloped Roof Commercial Building Solar Panel Systems
Solar PV systems for all types of pitched-roof commercial buildings.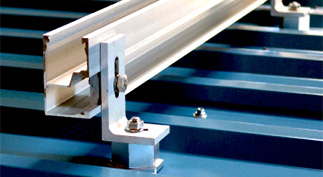 CORRUGATED / TRAPEZOIDAL METAL ROOF
Commercial Sloped-Roof Solar System
Base Price List & Information
System
50 KW
75 KW
100 KW
250 KW
500 KW
1,000 KW
Trina, Peimar or
Axitec
$52,900
3,526 sq. ft.
$77,970
5,288 sq. ft.
$103,040
7,051 sq. ft.
$249,200
17,628 sq. ft.
$481,600
35,256 sq. ft.
$907,200
70,513 sq. ft.
REC, Silfab,
Canadian Solar
$52,900
3,274 sq. ft.
$77,970
4,911 sq. ft.
$103,040
6,548 sq. ft.
$249,200
16,369 sq. ft.
$481,600
32,738 sq. ft.
$940,800
65,476 sq. ft.
LG, Hyundai,
Mission Solar
$61,525
3,342 sq. ft.
$90,682
5,013 sq. ft.
$119,840
6,684 sq. ft.
$291,200
16,710 sq. ft.
$537,600
33,420 sq. ft.
$1,019,200
66,840 sq. ft.
View Our Commercial Solar System Projects:
Commercial Sloped-Roof Solar Systems since 1996
Our experienced professional team can assist you every step of the way.
Solar Electric Supply has designed and supplied customers with sloped roof commercial building solar systems for all types of pitched roofs for over 15 years. Whether the roof is metal, composition shingle, wood shingle or Spanish tile we can assure our customers that the solar panel roof mounts that Solar Electric Supply supplies come from reputable manufacturers like UniRac, SnapNRack, Professional Solar Products, Schletter and DPW Solar.
Due to our large purchasing volume and long established factory relationships, we can offer incredibly low wholesale pricing. There is no solar PV project too small or too large for us. We carry solar panels or modules from established manufacturers like REC, Canadian Solar, Trina Solar, SolarWorld, Hanwha, S-Energy and many others. Inverters we carry come from reliable manufacturers like SMA, Fronius, SolarEdge, Enphase, PV Powered, Advanced Energy and more. We have chosen these manufacturers because they maintain high quality products, positive history, proven cost effectiveness and high customer focused value.
Manage the project yourself.
Save thousands of dollars!
Buy at low wholesale direct prices
from Solar Electric Supply
Toll-Free: (877) 297-0014
SES offers both packaged and custom complete systems for general or solar contractors looking for a low price on quality components that offer true product satisfaction and value. With us, you will find the the highest quality solar panels, grid-tie inverters, and system components at a low wholesale discount price for your next commercial sloped roof mounted solar system project.
All systems can be customized!
Different roof mount, module, inverter and voltage options are available, all at low wholesale prices.
Other Services Available:
Solar System Installation and Project Management
Site-Specific Solar Feasibility Studies
In-depth System Performance and Financial Analysis Reports
Complete Commercial Solar System Design Assistance
Structural Engineering Analysis
All sloped-roof commercial solar systems include:
Underwriters Laboratory (UL) Listed Solar Panels
UL Listed Grid-Tie Solar Inverters from trusted, established manufacturers
Quality Engineered Sloped Roof Solar Mounting System for your specific roof type
Balance of System Items: solar combiners, grounding, disconnects and related hardware
Single and Three-Line Schematics
Stamped Testing Reports for your specific solar mounting system
Solar Electric Supply's experienced professional team can assist you every step of the way.
Solar financing assistance, system return on investment reports, solar SREC (PBI) performance-based incentive investigation, installation referral and solar technical training, financial analysis (ROI) solar interconnection, net-metering application assistance and on-site project management.