Large Battery Enclosures
Large Outdoor Battery Enclosures
Solar & UPS backup power system battery enclosures for off-grid or grid-connected solar systems.

Industrial Quality · Durable Pad-Mounted Design
SES offers a wide variety of large outdoor battery and electronics enclosures for emergency backup UPS and solar storage applications. Our NEMA 3R Design Battery & Control Enclosures feature white polyester powder-coated aluminum, swing out door or chest style, filtered vents and an optional NEMA 4 design separate electronics enclosure. A pedestal base is included for secure mounting.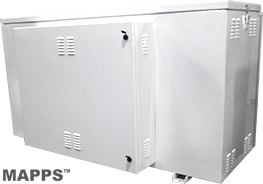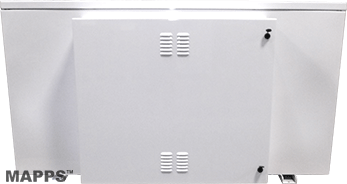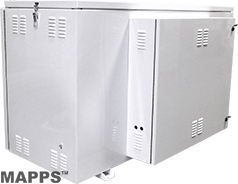 Weatherproof 4 Battery Enclosure
This weatherproof battery enclosure can hold Seismic Zone 4 Rated sealed lead acid AGM or monoblock Gel and advanced Lithium LiPO4 batteries. A solar controller, inverter, rectifier/battery charger, DC to DC converter and client load equipment may be mounted and pre-wired on a DIN rail with solar/battery/load breakers in the same enclosure, or an attached or separate NEMA 4 electronics compartment.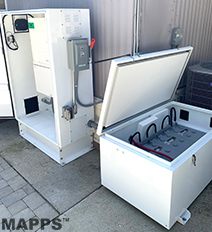 Weatherproof 12 Battery Enclosure
This chest style, pad-mounted battery box enclosure holds up to 12 Group 8D batteries.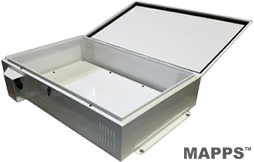 SES Large Outdoor Enclosure Standard Features
Built to NEMA 3R design specifications
Bright white polyester powder-coat inside and out (other colors available)
Fabricated from .125" thick 5052-H32 aluminum
Heavy duty stainless steel continuous hinge
Seams are continuously welded and then sanded smooth
Filtered or screened ventilation louvers
Adjustable tension stainless steel padlock hasp
Chest style, pad- or ground-mounted, and hinged-lid battery boxes feature welded skid channels Swing out door and top opening designs
Heavy-duty, extra-thick Styrofoam insulation
Conduit knockouts for easy connections of grid, solar or loads
Can accommodate: Deka Unigy II, GNB Absolyte, Deka 8D Gel, Discover and SimpliPhi LiPO4 batteries.
MAPPS Large Battery & Electronics Enclosure Options & Upgrades
NEMA 4 electronics compartment available
Pull out trays for easy installation and removal of batteries
Mil finish aluminum, stainless or galvanized steel
DC to AC inverters pre-wired
DC to DC converters pre-wired
Solar controllers pre-wired
Polyphaser surge protection for radios
DIN Rail for equipment loads
Additional DC load breakers
POE's and other load equipment can be pre-wired and installed on backplate
Over 20 Years of Remote Off-Grid Solar Experience
Solar Electric Supply's years of PV expertise allow us to offer a wide variety of time-tested heavy-duty aluminum outdoor rated battery enclosures for remote industrial applications including solar and UPS.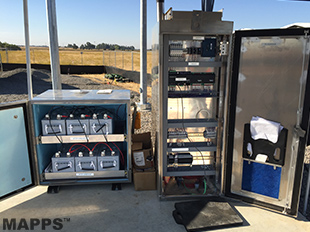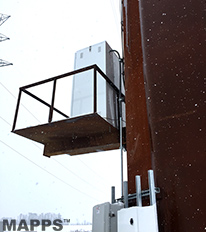 Not Just For Batteries
We offer enclosures for single and multiple batteries, solar controllers, DC to AC inverters, DC to DC Converters, POE's and customer supplied loads.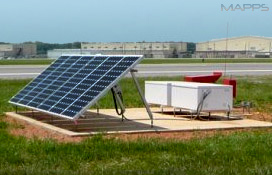 US Air Force using MAPPS 1060AHr battery enclosures.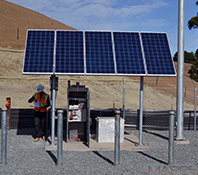 Utility company Class I Division 2 solar system