MAPPS™ Outdoor Solar LED Lighting Systems

MAPPS™ Outdoor Solar LED Lighting Systems
Heavy duty LED street lighting solar systems
MAPPS™ Industrial quality outdoor street light featuring RAB LED lighting with a 5 year warranty
MAPPS™ Solar Area Light series are designed for a wide variety of outdoor area lighting applications where AC power is not available. In partnership with RAB, a leading LED lighting manufacturer, these systems feature outstanding efficiency coupled with a robust design. Heavy duty construction with high quality components means reliable performance for you for those critical outdoor area lighting applications. Select one of our systems below based on the lumen level you want, your run hours and the project location. Call for expert assistance.
MAPPS™ Solar Outdoor RAB LED Lighting System Features & Review
System Features
High-quality crystalline solar panel w/ 25-year warranty
Aluminum back sheet protects from birds and rocks
Four RAB Lighting LED light options: 10W, 13W, 18W, 26W
Heavy welded steel construction
5 pole colors available
Fully automatic operation
Fully automatic operation
Maintenance free battery
Base hinges to facilitate service
Galvanized or powder coated finish
5-year warranty on system
LED Lighting Applications
Parking lots
Pathways
Multi-tenant complexes
Factories
Military bases
Schools
Marinas


Hiking trails
Parks
Low light security risk areas
Vandalism & high theft areas
Shopping centers
Driveways

Weatherproof base keeps battery and circuitry safe from the elements.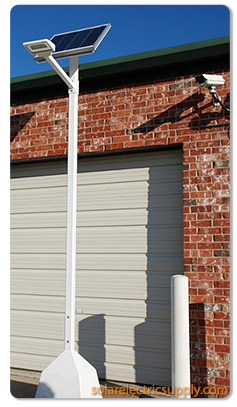 A MAPPS™ Outdoor Solar LED Lighting System provides reliable security and safety lighting power where AC power is not available.
Call us for a free sizing and quotation for your project!
Toll-Free: (877) 297-0014
International inquiries welcome!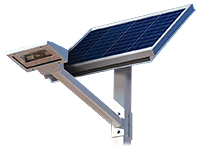 Weatherproof solar panels and panel mounts ensure long-lasting performance in harsh elements.
MAPPS RAB LED Lighting Specifications
LEDs: Multi-chip, high-output, long-life LEDs.
Cold Weather Starting: Minimum starting temperature is -40°F ( -40°C).
Ambient Temperature: ALED13: Suitable for use in 122°F (50°C) ALED10, 18 and 16: Suitable for use in 104°F (40°C)
Thermal Management: Die-cast aluminum system for optimal heat dissipation
Housing: Precision die-cast aluminum
Mounting: Junction box or surface plate
Reflector: ALED10 & 13: Hydro-formed aluminum.
ALED18: Semi-specular, vacuum metalized polycarbonate.
ALED26: Semi-specular, vacuum hydroformed polycarbonate.
Gaskets: High-temperature silicone O-ring gasketed plug.
Finish: Proprietary environmentally friendly polyester powder coating that is formulated for high-durability and long-lasting color. Contains no VOC or heavy metals.
Color Consistency: 7-Step MacAdam ellipse
Color Stability: RAB LEDs exceed industry standards for chromatic stability
Color Uniformity: RABs range of CCT (Correlated Color Temperature) follows the guidelines of the American Standard for Specifications for the Chromaticity of Solid State Lighting (SSL) Products, ANSI C78.377-2011.
Green Technology: Mercury and UV free. RoHS Compliant. Polyester powder coat finish formulated without the use of VOC or heavy metals.
IP Rating: Contact us for IP Ratings.
Dark Sky Approved: The International Dark Sky Association has approved these ALED products as full cutoff, fully shielded luminaries.
Patents: RAB LED Wallpacks are protected by U.S patents and patents pending in U.S., Canada, China, Taiwan and Mexico.
MAPPS RAB LED Lighting Performance Table
ALED10
ALED13
ALED18
ALED26

LED Watts / Input Watts
10w/ 13W
13W/ 15W
18W/ 20W
26W/ 30w
Lumen Output
547
997
2044
2662
Lumens Per Watt
41
65
103
130
HID Equivalency
70W MH
100W MH
150W MH
175W MH
HID Replacement Range
35-100W MH
70-150W MH
100-175W MH
150-200W MH
Surge Protection
1kV
4kV
6kV
6kV
Note: Call for a free design based on your location to estimate solar light run hours.
MAPPS™ RAB LED Pole and Base available in the following colors:

Models & Pricing
Choose the right MAPPS™ Outdoor Solar LED Lighting System for your application.
Choose a system based on your power needs from our table below or let one of our trained associates build a custom system for your project. These are complete pre-wired systems utilizing high efficiency solar modules and sealed battery banks. Our line of complete solar charging systems are built with over 40 years experience. Contact our experts for custom solar LED lighting systems.
Wholesale discount price available for industrial, government and international customers.
MAPPS RAB LED
List Price
Model
Solar Wattage
RAB LED Light
1
2 to 9
10 to 24
25+
MAP-50-10W Watts
50 Watts
ALED10
$4,000
$3,852
$3,720
$3,590
MAP-85-10W Watts
85 Watts
ALED10
$4,154
$4,000
$3,856
$3,724
MAP-50-13W Watts
50 Watts
ALED13
$4,154
$4,000
$3,856
$3,724
MAP-85-13W Watts
85 Watts
ALED13
$4,276
$4,120
$3,970
$3,834
MAP-50-18W Watts
50 Watts
ALED18
$4,200
$4,038
$3,890
$3,750
MAP-85-18W Watts
85 Watts
ALED18
$4,340
$4,178
$4,030
$3,890
MAP-85-18WX Watts
85 Watts
ALED18
$4,640
$4,478
$4,330
$4,190
MAP-135-18X Watts
135 Watts
ALED18
$4,614
$4,442
$4,286
$4,140
MAP-135-18WX Watts
135 Watts
ALED18
$4,714
$4,742
$4,458
$4,440
MAP-85-26W Watts
85 Watts
ALED26
$4,416
$4,252
$4,100
$3,958
MAP-85-26WX Watts
85 Watts
ALED26
$4,716
$4,552
$4,400
$4,258
MAP-135-2W Watts
135 Watts
ALED26
$4,770
$4,594
$4,430
$4,276
MAP-135-26WX Watts
135 Watts
ALED26
$5,070
$4,694
$4,730
$4,576
Note: Systems with X in Model have additional battery capacity.