IronRidge Solar Panel Roof Mount System - Wholesale Price

Revolutionizing Solar Installation: The Solar Stack Advantage
Zero Roof Penetration Solar Panel Mounting System For Commercial and Residential Applications
Damage Free
No Screws
No Leaks
No Holes
Meets the strictest wind codes in the US
In the dynamic world of solar energy, Solar Stack stands out as a game-changer, offering a unique solution to the long-standing challenges of solar panel installation. Recognized for its innovative approach, Solar Stack has redefined the installation process, eliminating the need for invasive procedures that compromise the integrity of structures. This revolutionary mounting system caters to both commercial and residential needs, addressing concerns about roof damage and maintenance while promoting sustainable energy use.
What sets Solar Stack apart is its patented, damage-free mounting technology. Traditionally, the installation of solar panels involved drilling holes into roofs, risking leaks and voiding warranties. Solar Stack, however, employs a groundbreaking method that secures solar panels with a specialized adhesive, bypassing the need for drilling entirely. This approach not only preserves the roof's condition but also streamlines the installation process, making it quicker, more cost-effective, and environmentally friendly. With Solar Stack, embracing solar energy has never been easier or more secure.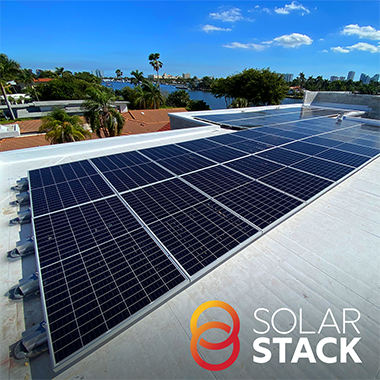 Compatible Solar Stack Flat & Low Slope Roof Systems:
Granulated Cap Sheet (Roll Roofing)
BUR (Built Up Roofing)
Modified Bitumen
TPO
EPDM
PVC
Metal (22 gauge or heavier within HVHZ)
Concrete
SPF (Spray Polyurethane Foam)
Hypalon Solar Stack Pedestal Mounting Hardware
Starting with the 'STANDARD 8"', this is the most popular and versatile option, ideal for standard installations. For those requiring enhanced stability, the 'STANDARD 12"' offers an additional 50% uplift resistance, ensuring a more robust mount in challenging environments. For optimized sun exposure, our '5° Tilt Kit' and '10° Tilt Kit' provide a gentle slope, allowing panels to capture more sunlight, thus increasing energy efficiency.
STANDARD 8"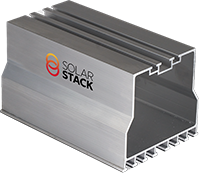 The Most Popular / Go to Solar Stack
STANDARD 12"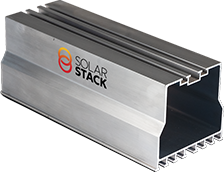 Provides Additional 50% Uplift Resistance
5° Tilt Kit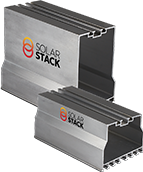 Provides 5° Slope for Solar Panels
10° Tilt Kit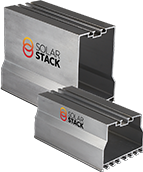 Provides 10° Slope for Solar Panels
How Many Stacks do I need Per Panel?
Determining how many Solar Stacks you need for your solar panels is easy. Just follow this simple formula: Take the total number of solar panels you have and double it. Then, do the same for the number of rows of panels you have. Finally, add these two numbers together to get the total number of Solar Stacks needed.
(Number of Panels × 2) + (Number of Rows × 2) = Total Solar Stacks.
Solar Stack Calculation
(Number of Panels × 2)
+
(Number of Rows × 2)
=
Total Solar Stacks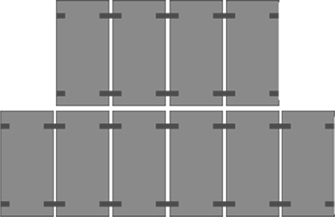 If you have 10 panels in 2 rows: (10 × 2) + (2 × 2) = 24 Solar Stacks
Solar Stack: Made In The USA
Solar Stack is a shining example of American innovation in the field of solar technology. Manufactured with pride in the USA, each Solar Stack unit is a symbol of commitment to quality and craftsmanship. This dedication to excellence is evident in every aspect of the product, from its durable materials to its efficient design. By featuring Solar Stack, we bring to you a product that not only enhances your solar installations but also supports the American economy and job market. Embrace the reliability and ingenuity of American-made solar solutions with Solar Stack, where advanced technology meets the highest standards of manufacturing
Home Owner Benefits
Penetration-Free Installation: Solar Stack is the only solar panel mounting system that does not require roof penetrations.
Innovative Mounting Technology: Utilizes a unique pedestal and code-approved foam adhesive, ensuring a secure and reliable attachment of solar panels to the roof.
Proven Durability in Harsh Conditions: The foam adhesive has a proven track record in Florida's High Velocity Hurricane Zone, demonstrating exceptional durability and resilience in extreme weather conditions.
Easy and Efficient Installation: The simplicity of the system allows for quicker and more efficient solar panel installations by contractors.
Contractor Benefits
Compatibility with Multiple Roof Systems: Works with sloped systems like Tile, Concrete Decks, and Structural Metal, as well as Flat Deck systems including BUR, TPO, and more.
Exclusion of Specific Roof Systems: Clearly defined incompatibility with shingle, silicone, or polypropylene-based surfaces, ensuring precise application.
Rail-Free Installation: Eliminates the need for rails and racks, allowing direct installation of solar panels to the pedestal.
Versatile Mounting Hardware Compatibility: Features channels that accommodate various mid-clamps and end-clamps.