MAPPS® Remote Off-Grid Solar Power Systems

MAPPS® Remote Off-Grid Solar Power Systems
Pad & Pole-mounted, Class 1 Div 2, Microgrid and AC/DC UPS solar battery enclosure systems.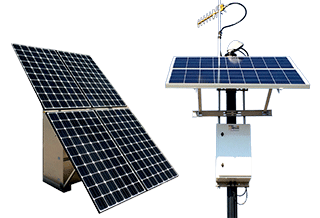 Complete pre-assembled pole & pad mount solar systems for:
UHF/VHF Radio
Seismic or Environmental Monitoring
Wireless Smart Meter Reading
RFID Sensor Detection
Climate Weather Monitoring
Complete CSA certified Class I Div II solar systems for:
Gas Wellhead Monitoring
Pipeline Flow Monitoring
Tank Farms, Gaging
Offshore Oil Platforms
Environmental Monitoring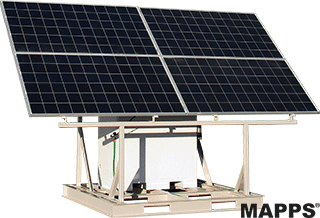 Completely pre-assembled skid based solar systems for many applications including:
Emergency Preparedness
Disaster Relief & Response
Standby Solar Generator
Military Use
Solar Emergency Power
---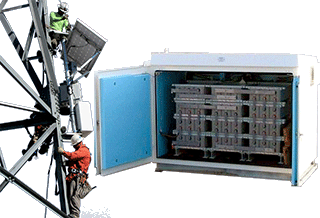 Complete, ready-to-install UPS systems for reliable outdoor battery backup for:
Critical AC and DC Loads
Pole-mounted Outdoor Systems
Tower and Obstruction Lighting
Video Cameras & Security Systems
8-96 hour backup systems available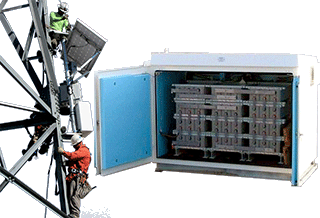 Complete engineered hybrid solar with wind, diesel genset systems for:
Cellular & Telecom Repeaters
Remote Site Power & Microgrids
Environmental Monitoring
Military Forward Base Station Power
Village & Island Power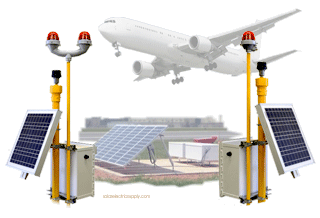 We carry a complete line of LED obstruction lighting MAPPS® systems for:
MET Tower Wind Farm Lighting
Utility Tower LED Lighting
FAA & ICAO Aviation Lighting
Crane & Tall Building Lighting
L810 LED Hazardous Obstruction
---
DESCRIPTION
Solar Electric Supply's MAPPS® are stand-alone solar power systems, engineered to support a wide variety of remote power requirements.
All MAPPS® are complete, pre-packaged systems consisting of:
UL Listed Photovoltaic Modules
Sealed, Maintenance-free Batteries
Rugged Battery Enclosure
Pre-wired Charge / Load Controller
Lightning Surge Protection
High Quality Aluminum Mounts
Wiring Harness
Installation Manual and Schematics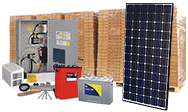 Solar System Applications
Flow Monitoring
Cathodic Protection
SCADA RTU
Microwave Relay
VSAT
Environmental Monitoring
Street/Area/Landscape Lighting
Wireless Smart Meters
Gas Valve Automation
Transmission Tower LED Lighting
WiFi WiMax
Broadband Wireless
Security Systems
Telemetry
WHOLESALE DISTRIBUTION
We supply photovoltaic and other renewable energy products to dealers, contractors, commercial and industrial accounts, and government agencies. High capacity purchasing results in the lowest possible pricing and our extensive inventory guarantees immediate availability.

MANUFACTURING
We manufacture many of the custom components we provide to our high standards for: integrated systems, grid-tie applications, water pumping, security and residential lighting, SCADA/instrumentation, island electrification, back-up or emergency power, solar and stand alone solar hybrid packages for remote locations and off-grid homes.

RESEARCH AND DEVELOPMENT
We have extensive experience conducting studies pertaining to the design and deployment of stand alone solar systems into the operations of electric utility companies, including distribution systems and air emissions mitigation. We also pioneer the industry and government with development of cutting edge power electronics products for renewable energy systems

INSTALLATION AND TRAINING
We offer global installation services and training on renewable power system design, installation, operation and maintenance for audiences and organizations around the world. Our training programs teach on site, practical knowledge needed to effortlessly complete successful projects. Our extensive experience with project management, construction and permitting of projects from less than .1KW to over 5MW.

SYSTEM PERFORMANCE MONITORING & ANALYSIS
We offer a variety of monitoring, analysis, and software products and services to the solar community (including electric utilities, power providers, institutions, and individuals). Our products and services are designed to assist our customers in monitoring the output of their solar systems, responding immediately to events affecting system performance, and delivering information about the performance and benefits of the solar source to desired viewers.

SYSTEM ENGINEERING
Full CAD capabilities, wide-ranging drawing library and proprietary computer design tools allow us the convenience of designing products and systems for any location on earth.

MADE IN THE USA
Our MAPPS® and SES SDC™ Microgrid systems are made in the USA, and qualify for US ARRA and Buy America Act.

COMPLETE PROJECT SUPPORT
We provide complete "turnkey" project support from design through operation. Support includes engineering, installation & commissioning via our contracting partners, testing and documentation. Our personnel have traveled extensively to remote sites worldwide, installing systems or providing technical support and training for user installed projects.
WORLDWIDE EXPERIENCE
With thousands of installed systems and countless hours of operation, we offer an excellent foundation of practical experience to share with our customers covering all aspects of photovoltaic applications, anywhere in the world.
IEEE STANDARD DESIGN
Stringent computer design software to IEEE remote solar design standards allow us to design systems which provide accurate power and energy performance level predictions. We will design and supply our systems anywhere in the world.
QUALITY & RELIABILITY
All systems begin with high quality components employing proven engineering and design methods. We assemble subsystems following a strict quality assurance program, install the system in compliance with local codes and national standards, perform extensive testing and complete each project by providing training and "as built" documentation.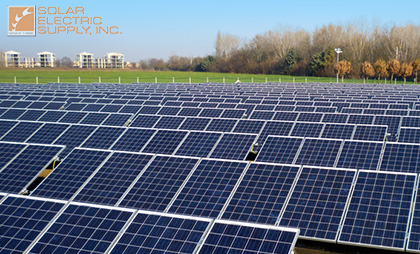 World-class technical support provided by experienced professionals. We pride ourselves on providing the best technical support in the industry.
Call toll-free (877) 297-0014 for expert assistance.