Commercial Solar Carports
Commercial Solar Carports
Carport Mounted Shade Structure Solar Systems for Commercial PV Applications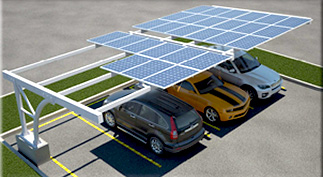 Architectural Series
Solar carports and car charging stations
Pre-fabricated solar carports available
One of the lowest cost solar carport systems
Factory engineering and design support available
On-Site project management and installation service options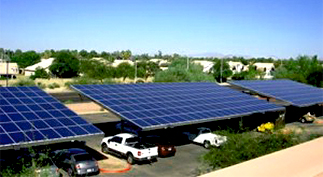 Large Commercial Series
Complete turnkey systems 500kW and larger
Fabricated cantilevered steel parking structures
Factory engineering design support available
Factory project management support available
On-Site project management & installation options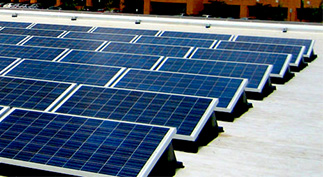 Custom Carport Series - Made in USA
Utility-scale custom and pre-fabricated
Design and stamped engineering available
Durable and corrosion-free construction
Quality Made in USA carport systems
On-Site project management and installation options
Commercial Solar Carport
Base Price List & Information
System
50 KW
75 KW
100 KW
250 KW
500 KW
1,000 KW
Trina, Peimar or
Axitec
$67,275
3,526 sq. ft.
$99,157
5,288 sq. ft.
$131,040
7,051 sq. ft.
$327,600
17,628 sq. ft.
$638,400
35,256 sq. ft.
$1,220,800
70,513 sq. ft.
REC, Silfab,
Canadian Solar
$67,275
3,274 sq. ft.
$99,157
4,911 sq. ft.
$131,040
6,548 sq. ft.
$327,600
16,369 sq. ft.
$638,400
32,738 sq. ft.
$1,254,400
65,476 sq. ft.
LG, Hyundai,
Mission Solar
$75,900
3,342 sq. ft.
$111,870
5,013 sq. ft.
$147,840
6,684 sq. ft.
$369,600
16,710 sq. ft.
$694,400
33,420 sq. ft.
$1,332,800
66,840 sq. ft.
View Our Commercial Solar System Projects:
Carport Solar Systems for Business & Government
Our Commercial Carport Mount Solar Systems come from trusted manufacturers like Schletter, Upsolar and Orion.
Each commercial solar carport comes with on-site project management and installation service options to ensure quality customer satisfaction and customer focused solutions.
Orion's Scalable Solar Carport Structure comes available in all sizes and includes car charging stations.
Upsolar's Turnkey Solar Carport Solution offers factory installation and project management support.
Schletter's Park@Sol Carport Solution is made in the USA and is both custom and pre-fabricated.
Choosing the right carport system for your commercial solar project can be a challenging decision. We've included a few options and pricing examples above in order to make your navigation for the ideal solution easier. Feel free to call us toll-free to speak to a friendly, knowledgeable commercial solar carport representative.
All systems can be customized!
Different carport mount, PV module, inverter and voltage options are available, all at low wholesale prices.
Manage the project yourself.
Save thousands of dollars!
Buy at low wholesale direct prices
from Solar Electric Supply
Toll-Free: (877) 297-0014
Other Services Available:
Solar System Installation and Project Management
Site-Specific Solar Feasibility Studies
In-depth System Performance and Financial Analysis Reports
Complete Commercial Solar System Design Assistance
Structural Engineering Analysis
All solar carport systems include the following:
Underwriters Laboratory (UL) Listed Solar Panels
UL Listed Grid-Tie Solar Inverters from trusted, established manufacturers
Quality Engineered Carport PV Mounting System for your specific roof type
Balance of System Items: solar combiners, grounding, disconnects and related hardware
Single and Three-Line Schematics
Stamped Testing Reports for your specific solar mounting system
Solar Electric Supply's experienced professional team can assist you every step of the way.
Solar financing assistance, system return on investment reports, solar SREC (PBI) performance-based incentive investigation, installation referral and solar technical training, financial analysis (ROI) solar interconnection, net-metering application assistance and on-site project management.
Contact Our Friendly, Knowledgeable Staff
You can speak with an experienced, knowledgeable and friendly representative with a simple phone call. Contact us toll-free at (877) 297-0014 and someone will be happy to help you with all aspects of the design, system cost and rebate incentives for flat roof commercial building solar systems.