SolarEdge Inverters
High-efficiency SolarEdge inverters for home & commercial power optimizer systems.
Low SolarEdge inverter wholesale prices and expert reviews. Contact us toll-free: (877) 297-0014.

Solar Edge Single Phase Energy Hub Inverter with Prism Technology

SolarEdge HD Wave Single Phase Inverters for SetApp

SolarEdge HD Wave Single Phase Inverters

SolarEdge Analog Single Phase Inverters

SolarEdge Three Phase Inverters

SolarEdge Inverter System Review
The complete SolarEdge inverter system is a three-fold architecture consisting of Power Optimizers which perform solar module-level MPPT, a highly reliable solar PV inverter, and a web portal for module-level monitoring and fault detection. It features a higher overall efficiency than other inverters, offers shade loss protection and a state-of-the-art monitoring web/smartphone program.
SolarEdge Inverters
HD Wave inverters use advanced digital processing to create a high-definition wave. These inverters use less magnetics, have fewer cooling components, are smaller and lighter than their analog predecessors. Combined with Power Optimizers, they are more efficient at up to 99.2% and reliable than ever before. These smaller HD Wave inverters are designed to simplify installation that can now be done with one person.
For energy storage backup purposes, the StorEdge SE7600A-USS inverter has the capability of battery charging for backup power in the event of a grid power outage. It is compatible with the popular Tesla Powerwall. The StorEdge manages the battery and the system energy, in addition to its traditional functionality as a DC-optimized PV inverter.
All SolarEdge inverters include a pre-assembled AC/DC safety switch which controls input and output with the simple installation of one unit. They also feature a small mounting bracket, requiring fewer mounting holes. After mounting the inverter, the bracket is concealed, leaving an aesthetically pleasing installation.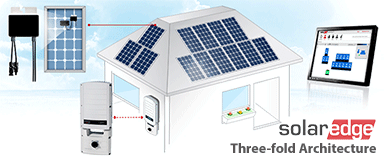 SolarEdge Power Optimizers
Fixed-voltage technology ensures a SolarEdge power optimized solar system is always working at its optimal input voltage over a wider range of string lengths and regardless of the environmental conditions of your solar system.
Per-module Maximum Power Point Tracking (MPPT)
99.5% maximum efficiency
Advanced, real-time performance measurement
Automatic module shut-down for installer and firefighter safety
Easily connected by installers to PV modules or attaching rails
Web Portal Monitoring
Free Module Level Monitoring
Automatic, accurate fault detection Faults located on site map No additional wiring Web portal and iPhone applications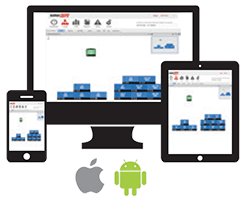 iPhone & Android Applications
In addition to the Web Portal website, the SolarEdge monitoring application enables PV installers and system owners to perform remote monitoring from their iPhone or Android device.
The monitoring application enables users to view the most updated data and be up to speed with their site's performance.
SolarEdge Site Designer
The SolarEdge Site Designer makes designing an optimizer PV system easier than ever for any given SolarEdge installation size. The tool recommends the number of strings and each string's length as well as PV inverter and power optimizer selections. This is all based on site size and PV module selection.
In addition to the automatic design recommendation, the Site Designer supports multi-orientation design, multiple module types in one design, as well as printable reports and the SolarEdge Bill-of-Materials for the design. Site Designer is a free download.

SolarEdge Site Mapper
The Site Mapper scans the barcodes of power optimizers and solar inverters to create a virtual map of a PV site, facilitating remote diagnostics through the SolarEdge monitoring portal. When installing your SolarEdge system, download the SolarEdge Mapper application to your iPhone, free of charge, from the Apple iTunes Store and enjoy all the benefits of module-level monitoring at a touch of a finger.
Following an easy sketch of the physical layout of a SolarEdge installation, the iPhone application uses the phone's camera for scanning the barcodes. A match between the physical layout and the logic layout (string assignment) is created and then the layout is emailed to the SolarEdge support team for inclusion on the monitoring portal.

Low wholesale prices and expert SolarEdge inverter assistance available.
Contact us toll-free:(877) 297-0014
Contractor Discounts Available

SolarEdge Inverters · Power Optimizers
Contact us for sales, quantity discounts and expert reviews for SolarEdge inverters.