SES Pad & Pole Mounted Solar Battery Enclosures

SES Pad & Pole Mounted Solar Battery Enclosures
Pole & Pad Mount NEMA Battery Enclosures for UPS, Class 1 Div 2 and solar battery storage systems.
SES Solar Module Line (replaces the discontinued BP Solar line of small area format modules).
Solar Electric Supply has a wide variety of heavy duty aluminum outdoor rated NEMA battery enclosures for remote industrial applications including solar, UPS. and Class 1 Div 2. We offer pad and pole mounted enclosures for single and multiple batteries, solar controllers, DC to AC inverters, DC to DC Converters, POE's and customer supplied loads. Attachment brackets are supplied to fit any pole type or size. Standard mill finish and powder coated colors are available. Includes stainless steel hinged doors and compression latches for locking.
Contact us: (877) 297-0014 with your application today. OEM pricing available.

SOLAR BATTERY BOX ENCLOSURE DESCRIPTION
Holds up to six batteries
Standard pipe size clamps supplied, custom sizes available for any pole type
Steel pole, monopole, telephone pole, wall mount and ROHN tower mount options
Pole mount enclosures designed to hold over 350 lbs
Class 1 Division 2 enclosures available
INDUSTRIAL STRENGTH - DURABLE DESIGN
Standard design is rugged aluminum construction for corrosion resistance
Unistrut brackets for pole mounting
Stainless steel hinges
Lockable compression latches
NEMA 3R style filtered, louver vents
Stainless steel hardware
DIN mounted controls with overload protection and terminal strip
EASY INSTALLATION
Designed for rapid field installation with standard strut clamping hardware
Pre-wired control panels with pre-wired pigtails
Controls factory preset for quick and trouble free commissioning
Conduit knockouts for easy conduit connections of grid or solar and loads
Solar Battery Enclosure Applications
AC or DC UPS backup power
Class 1 Div 2 enclosures for oil and gas
Obstruction lighting for towers
Wi-Fi/PoE wireless broadband
Security cameras
RFID readers
Remote telemetry
Wireless data monitoring
Meter reading
Gas pipeline monitoring
Radio smart meter readers
Solar farm monitoring backup power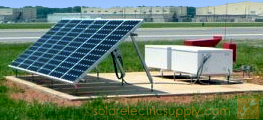 SES MAPPS enclosures can be used in parallel to double the battery capacity. These dual PAD 4 enclosures are used by the US Air Force.
COUNTLESS BATTERY POWERED APPLICATIONS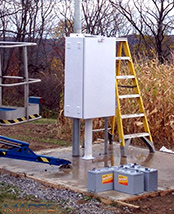 Two NEMA battery enclosure with electronics for a New York State water flow monitoring application.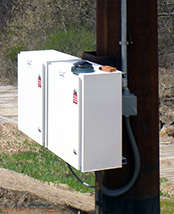 Dual 2 X 8D solar battery enclosure mounted on a monopole utility tower for aircraft warning lighting.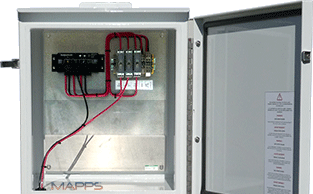 Our C1D2 enclosures have sealed upper compartments with a gasketed door for control panels and other loads.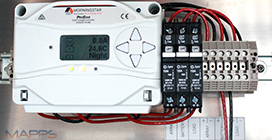 Pre-wired ProStar controller on DIN rail mounted on backplate with overload protection and labeled terminal strip.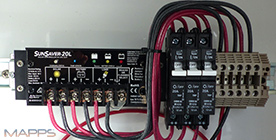 Pre-wired Class 1 Div 2 SunSaver controller mounted on control backplate with breakers, removable radio shelf available.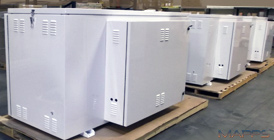 SES also manufactures larger custom standard & NEMA Class 1 Div 2 enclosures for higher power applications using telecom grade batteries and rack mount electronics.
Solar Electric Supply specializes in supplying dealer, contractor, government and industrial
accounts worldwide with reliable, cost-effective solar electric power solutions.
Contractor Discounts Available · Remote Industrial Solar Systems ·
Contact us toll-free: (877) 297-0014 for expert assistance and wholesale prices for any SES MAPPS Class 1 Div 2 enclosures..