Residential Solar System Projects
Sloped-roof, flat-roof, carport & ground-mount solar system project examples.
Since 1996, Solar Electric Supply has delivered thousands of complete, packaged home solar electric systems all over the world. These are pictures of some of our residential solar system projects (thank you for the pictures!).

Roof-Mounted Solar Panel System Projects
Ground-Mounted Solar Panel System Projects

Solar Inverter Installation Photo Close-Ups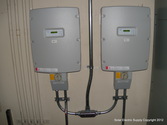 Two SB7000-US solar inverters installed inside the house, Michigan.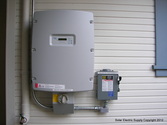 SMA SB5000-US outdoor inverter with AC solar disconnect, Maryland.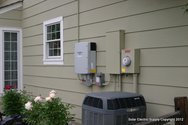 SMA SB5000-US installed nicely in a backyard solar home installation.
Solar AC Disconnects, Production Meters, Combiners, Junction Boxes, Conduit Runs

Have us design your residential solar system today.
Contact us toll-free: (877) 297-0014 - All solar systems can be custom designed.
Contractor Discounts Available · Residential Solar System Prices

Contact us for sales, reviews and low prices for any residential solar system.