Side of Pole Solar Panel Mounts for Off-Grid PV Systems
Side of Pole Solar Panel Mounts
Rugged side-of-pole PV mounting structures for remote off-grid solar panel systems


SIDE OF POLE MOUNT DESCRIPTION
Solar Electric Supply has a wide variety of heavy duty side of pole solar support structures for industrial off grid applications. We offer PV mounts for single modules and multiple modules models that will withstand wind speeds of 90 and 130 MPH. Standard mill finish, powder coating or anodized available.
All side of pole mounts include stainless steel hardware. Band clamps, U-bolts and custom attachment hardware is available for any pole type. Load testing is available for specific applications. Contact us with your application today. OEM pricing available.
Side of Pole Solar Panel Mount Applications
RFID Sensors
Utility Smart Wireless Meter
WiFi/PoE
Telemetry
Wireless Data
Meter Reading
Utility FAA Tower LED
Wind Farm Obstruction Lighting
Pipeline Monitoring
Class I Div II Oil and Gas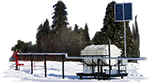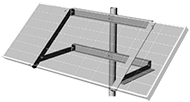 Single Module Side of Pole Mount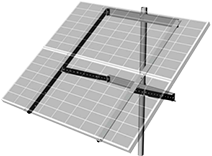 Two Module Side of Pole Mount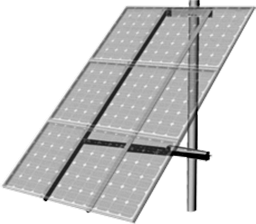 Three Module Side of Pole Mount
INDUSTRIAL STRENGTH / RELIABLE DESIGN
Standard design is 90 MPH. 130 MPH and higher are available.
Load testing for specific designs
TIG welded aluminum pole channels
5000 & 6000 series structural aluminum mounting rails
Stainless Steel module mounting hardware
Zinc plated rack assembly hardware
High strength stainless steel band clamps or U bolts
WIDE RANGE OF APPLICATIONS
Support from 1-4 solar modules
Standard pipe size clamps supplied, custom sizes available for any pole type
Adjustable from 30° to 90° tilt angle
Support up to 1000 Watts on a single structure
EASY ASSEMBLY REDUCES LABOR COSTS
Designed for specific high quality solar modules, reducing parts and labor
No modification required
Factory set module hole placement locations create uniform spacing
Easy access bottom flange module attachment
USGS Seismic Monitoring Pole Mounted Solar System Three module side of pole mount used in MAPPS for USGS seismic monitoring in the California High Desert.
OPTIONS & UPGRADES
High Wind Version: 130 MPH Exposure C
Anodized or powder coated finish on aluminum components
Stainless Steel Rack Assembly Hardware Package
Tamper-Resistant Module Mounting Hardware Package
Stainless steel band clamp size upgrades
MADE IN THE USA
Our MAPPS™ PV Mounting Structures are made in the USA, qualify for US ARRA and the Buy America Act.
Contact us: (877) 297-0014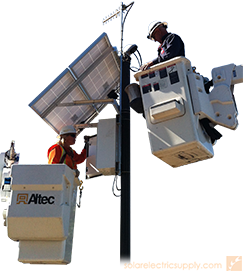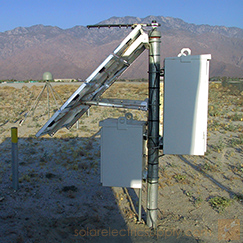 Three module side of pole mount used in MAPPS for USGS seismic monitoring in the California High Desert.
COUNTLESS PV APPLICATIONS
Four module mount MAPPS system
powering an oil and gas wellhead monitor.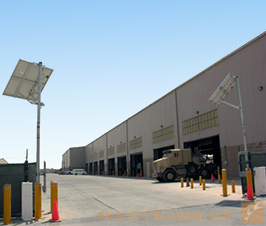 Two module SPM used in MAPPS powering
RFID sensors for US Army in Kuwait.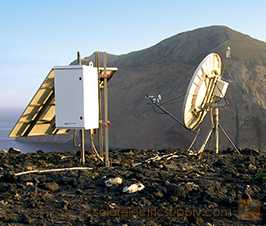 Four module SPM used in a MAPPS powering
a VSAT satellite network on a remote island off Baja California.
Solar Electric Supply specializes in supplying dealer, contractor, government and industrial accounts worldwide with reliable, cost-effective solar electric power solutions.
Contractor Discounts Available
Remote Industrial Solar Systems
Contact us toll-free: (877) 297-0014 for expert assistance and wholesale prices for solar systems with Deka Solar gel cell & AGM batteries.