Residential Solar Carport System Discount
Residential Solar Carport Grid-Tie Solar Panel Systems
Photovoltaic systems for various flat-roof home projects.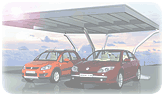 Carport mounted solar systems for homes are a popular use of otherwise unused structure and parking lot space. We supply and design small low-cost solar carports, larger solar car parks and solar car charging stations for homes, apartment buildings, condominiums, and multi-unit dwellings. These grid-tie solar systems can help offset power consumed by hybrid or electric car charging. Solar carport and solar car charging stations are available from Schletter Mounting Systems, Baja Construction, Orion and many other manufacturers. Custom and pre-fabricated turn-key solar carport mounting solutions available in all sizes and configurations.
Whether your residential project is complex or simple, we have a ground-mounted solar carport system solution for you. Let our experienced professional team assist you with the design of your residential solar carport system project. Feel free to contact us for professional assistance.
Residential Grid-Tie Solar Carport System Information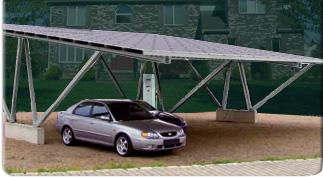 Schletter Residential Solar Carport Features
Pre-fabricated solar carports
Small home carports to large car parks
Carport mount design available
On-site project management available
Made in the USA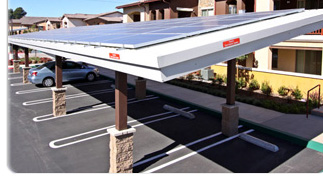 Baja Construction Solar Carport Features
Family-owned company, Made in USA
Pre-fabricated and custom solutions
Home solar carports from 2kW
Stamped engineering reports available
Carport design assistance available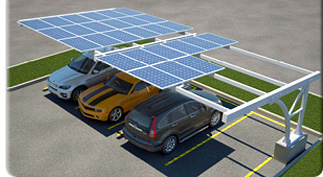 Orion Residential Scalable Carport Features
Available in all sizes large to small
Solar carport charging station option
Pre-fabricated or custom design
Low-cost solar carport
On-site project management available
Installation service options
Complete Turn-Key Solar Carports
Many options are available for our residential carport solar systems.
Contact us to review options like scalability, car charging stations for hybrid vehicles and custom carport design. In the city or in the country, our quality carport systems are durable and weatherproof. SES offer's both packaged and custom complete systems for the DIY homeowner or contractor looking for a low price on residential carport solar systems and components that offer true product satisfaction. You will find some of the more popular solar panels, grid-tie inverters, and system components at a low price.
Our trusted relationships with Schletter, Orion, Baja Construction and Upsolar allow us to provide quality residential solar carports at a low discount price and superior service. We have chosen these manufacturers because they maintain high quality products, positive history, proven cost effectiveness and high customer focused value.
All systems can be customized!
Different module mount, module, inverter and voltage options are available.
simple single car home solar carports to large condominium complexes, Solar Electric Supply is a wise, economical choice.
State and Federal rebate incentives are available.
Many states and municipalities offer significant incentives to encourage installing a solar system. Federal tax incentives are also available. Click here for more incentive information. All systems we carry follow the strict guidelines set by government agencies for incentive eligibility. These systems are specifically designed to meet all rebate incentives offered by many states. We provide all of the necessary documentation for inspection.
Generous solar system rebates are available for California, Colorado, Florida, Maryland, Massachusetts, Minnesota, New York, Nevada and New Jersey. We help relieve high energy rates with solar power in Hawaii, Bermuda, Guam, American Somoa, Fiji, Tahiti, Micronesia and Marshall Islands. Systems can be engineered for these rebate incentives at a very competitive discount price.
Installing a solar system doesn't have to be expensive. In fact, there are several programs available to help you save thousands on a complete solar system from Solar Electric Supply.
Would you like this system installed?
Please fill out our quote form for details on installation through one of our authorized installers in your area.
Contact Our Friendly, Knowledgeable Staff
You can speak with an experienced, knowledgeable and friendly representative with a simple phone call. Contact us toll-free at (877) 297-0014 and someone will be happy to help you with all aspects of the design, system cost and rebate incentives for your sloped roof mounted solar system.
---