| | |
| --- | --- |
| Unigy II Model Number | 3AVR95-33 |
| Module Voltage | 6 Volts |
| Number of Cells | 3 |
| Number of Plates per Cell | 33 |
| Cell Voltage | 1.75 |
| Capacity @ 25 Hr. Rate | 1807 AHr |
| Capacity @ 100 Hr. Rate | 2151 AHr |
| Interlock Module Length | 39.90 in. |
| Interlock Module Depth | 27.88 in. |
| Interlock Module Height | 9.54 in. |
| Interlock Module Weight | 781 lbs. |
| Non-Interlock Module Length | 39.90 in. |
| Non-Interlock Module Depth | 27.12 in. |
| Non-Interlock Module Height | 9.48 in. |
| Non-Interlock Module Weight | 749 lbs. |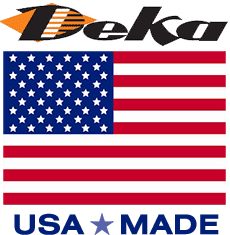 Deka Unigy II 3AVR95-33 Spacesaver Battery System Module
SKU DEKA-UNIGY-3AVR95-33

Deka Unigy II 3AVR95-33 Spacesaver™ Battery System Module
The Deka Unigy II 3AVR95-33 Battery by East Penn Manufacturing features 3x AVR95 battery cells with 33 plates per cell. This battery is designed for 6 volt systems and features a 2,151 AHr capacity rating @ 100 hour rate.
A complete module system utilizes one of two types of bases for easier transport and installation.
Unigy II Spacesaver Module Options
The Unigy II Spacesavers are available in two models: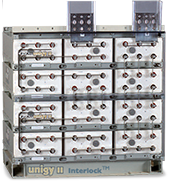 Complete Unigy II Spacesaver™ Interlock™ Module Battery System (shown with 3-cell modules)
One-Piece Base Interlock - This module requires only front access bolts for mounting. This module option meets UBC 97 (Interlock™ only) Zone 4 top of building requirements. These Interlock Modules are certified to 8 modules high, top of building.

Three-Piece Base Non-Interlock- This module has front and rear access bolts for mounting. This Non-Interlock model meets UBC 97 Zone 2B top of building requirements – Zone 4. These Non-Interlock Modules are certified up to to 8 modules high on ground level.
Battery Termination
Front termination is standard.
Top termination will add 7.75" to the overall height.
Side termination will add 4.5" to each side for termination.
Unigy II 3AVR95-33 Battery Features & Benefits
| | |
| --- | --- |
| Container and Cover | Impact-Resistant Polypropylene, UL 94 V-0, 28% L.O.I. |
| Separators | Microporous Glass Mat |
| Individual Plate Formation | Shipped at 100% Capacity |
| Cycle Life | 2400 cycles @ 20% DOD |
The dimensions on the left are represented by the images below:

Interlock™ vs. Non-Interlock Modules

The patented design of the Interlock™ Module allows for front access bolting. Rear bolting is required for three-piece base non-interlock modules. The dimensions of each are slightly different.

Deka Unigy II Spacesaver is the Dependable Choice
Deka Unigy II Spacesaver battery systems are constructed using the finest quality materials and state-of-the-art manufacturing techniques and are known for their high reliability and superior performance. They are ideal for larger, battery-based solar systems that demand high performance and a long cycle life.
This line of Unigy II batteries utilizes a smaller footprint to save space while providing optimal power. The new reduction in space enables less restriction for ground and vertical space confinements and meets UBC 97 Zone 4 (Interlock™ only) specifications, certified up to 8 modules high. Assembly is quick and easy with a simplified, yet advanced layout configuration and "two-way" post design allowing quick connector assembly and optimized current transfer.
Unigy II 3AVR95-33 battery powered applications:
This Unigy II battery, when combined with others in a complete Spacesaver system, is ideal for powering telecommunications, island power, cellular radio, microgrid, remote wi-fi, railroad signs/communication, remote residential, grid-tie battery backup, and uninterruptible power sources (UPS).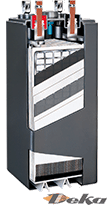 Unigy II
battery cell
The 3AVR95-33 features built-in advanced features such as:
"Two Way" Post design is lead plated solid copper providing a large contact area with front access bolting for easier installation and maintenance.
Pure Virgin Lead (99.99%) positive grid alloy is very resistant to corrosion/growth.
Positive and Negative plates are formed with IPF® technology to ensure plates operate at 100% capacity.
Collapsible bottom bridge accommodates for normal plate growth, reducing stress on battery post seals.
Air Gap between cells has been designed to reduce foot print while maintaining required cooling.
Front safety shield design easily slides on and off without tools for quicker assembly.
EPM Unigy II products are designed to meet the requirements of IEC 60896-21/22, BS 6290 and SR-4228.
Expected life of a properly maintained Unigy II system can be up to 20 years.