LG Solar Panels
Commercial, contractor & DIY wholesale pricing for LG solar panels available.
Solar Electric Supply is an Authorized LG Mono X, ACe, NeON 2 & NeON R Solar Panel Supplier.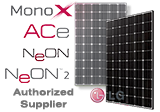 LG Solar Panel Review
All Mono X solar panels feature Monocrystalline Mono X solar cell technology "Mono X Plus" solar panels feature new ultra-stable frames and reduced LID using LiLY technology. "NeON 2" solar cells use cutting-edge, extremely efficient technology. These are used in premium LG solar panels. "NeON R" solar cells have a multi-ribbon cell structure for the greatest efficiency, reliability and electrode-free appearance. LG Solar has the world's most rigorous product assurance. Nominal power starts at 0%.
All LG solar panels we carry can withstand a maximum load of 5400 Pa. Mono X modules are known for being durable, yet light in weight. The unique frame design allows liquid to drain, even at low slopes and angles. These state-of-the-art LG solar panels are manufactured with 25 years of in-depth R&D and more than half century of consumer electronics. This research lead to the development of the attractive black NeON solar cell for the Mono-X solar panel. The NeON R solar panel incorporates a multi-ribbon bus technology to replace the flat electrode bus for added efficiency. The modernized NeON R solar cell design allows LG to offer an enhanced 25 year product and performance warranty for NeON R solar panels.
LG photovoltaic PV modules are perfect for residential and commercial grid-connected applications. Using systematic quality assurance in their manufacturing process, LG promises to provide their customers with unmatched product performance.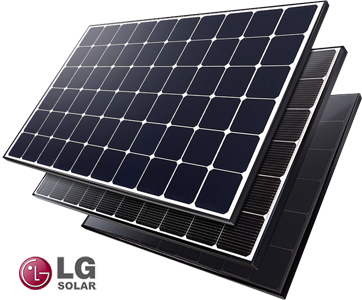 About LG Solar Panels and Mono X NeON Technology
LG embarked on a solar energy source research program in 1985. This research leading to modern LG solar panel technology was supported by LG Group's rich experience in the semi-conductor, LCD, chemistry and materials industry. LG released the first Mono X series solar panels to the market in 2010. LG Mono X solar panels were exported to 32 countries in the following 2 years thereafter. In 2013, LG NeON (previously known as Mono X NeON) won the "Intersolar Award", which proved LG is the leader of innovation in the industry. With the LG NeON R series, many significant refinements have been made to the cell structure to be able to provide some of the most efficient, reliable and easy to install solar panels on the photovoltaic market today.
LG Solar Panel Models
LG Solar Panel Systems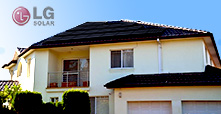 We carry complete residential and commercial LG solar panel systems. Perfect for the solar contractor or handy homeowner.
Check out our latest low price solar panel systems.
Certifications

Certified Laboratory
LG developed the core standard specifications for a solar module and became an official test laboratory certified by TÜV Rheinland and Underwriters Laboratories. Please refer to details on our corresponding solar panel product pages for more details on certifications and warranty information.
LG Electronics History
LG was originally established in 1958 as GoldStar, producing radios, TVs, refrigerators, washing machines, and air conditioners. The LG Group was a merger of two Korean companies, Lucky and GoldStar, from which the abbreviation of LG was derived. The current "Life's Good" slogan is a backronym. Before the corporate name change to LG, household products were sold under the brand name of Lucky, while electronic products were sold under the brand name of GoldStar.
In January 2009 LG was able to buy the domain name, LG.com, placing it among the companies who own their two letter brand's domain name.
In 1994 GoldStar gained sponsorship from The 3DO Company to make the first 3DO Interactive Multiplayer. In 1995, GoldStar was renamed LG Electronics, and acquired Zenith Electronics of the United States. LG Solar Energy is a subsidiary formed in 2007 to allow LG Chem to supply polysilicon to LG Electronics for production of solar cells to manufacture solar panels. In 2008, LG took its first dive into the solar-panel manufacturing pool, as it announced a preliminary deal to form a joint venture with Conergy. Under the deal, set to be completed by year's end, LG would acquire a 75 percent stake in Conergy's Frankfurt solar-panel plant for LG solar panels.
Contact us toll-free at (877) 297-0014 for low wholesale prices and reviews for LG solar panels.