Q CELLS Solar Panels
Low wholesale prices on the latest Q CELLS Q.PEAK solar panels.
High-performance technology for durability; Q CELLS solar panels with Q.ANTUM technology provide maximum output and reliability.


Q.PEAK 144 HC Cell 380-405 5.2 Solar Panels

Q.PEAK DUO G5 120 HC Cell Solar Panels

Q.PEAK DUO BLK-G5 120 HC Cell All-Black Solar Panels

Q.PEAK DUO L-G5.3 144 HC Cell Solar Panels

Q.PEAK DUO L-G7.2 144 HC Cell Solar Panels

Q.PEAK DUO BLK-G10+ Solar Panels
Q CELLS Solar Panels Review
Q CELLS Solar Panels Feature Q.ANTUM Technology
Q.ANTUM technology supercharges ordinary crystalline solar cells and modules. No special system components are required. Q.ANTUM delivers exceptional performance under real-world conditions. No PV system sees direct sunlight every minute of every day. Therefore, Hanwha designed Q.ANTUM to generate more power when the sun is rising, setting, or even behind clouds. You'll also see higher yields in the middle of hot and sunny summers, and during clear fall and winter days, when the sun is not as high in the sky. Q CELLS decided to focus on all of the key determinants of performance, not just the ones that make performance datasheets look good. Q CELLS not only enhanced low-light performance, but also the output of all of their Q CELLS solar panels across a range of temperatures.
The rear surfaces of Q.ANTUM solar cells are treated with a special nano coating that functions much like a typical household mirror. Rays of sunlight that would otherwise go to waste are reflected back through the cell to generate more electricity. Laser-fired contacts complement the nano coating to enhance the module's electrical properties, increasing its efficiency considerably.
Many improvements have been made in Q CELLS solar panel quality and technology over the years. They have developed some of the toughest test criteria in the industry. Now with Q CELLS' newest black backsheet models, they offer an aesthetically pleasing module: the Q.PEAK DUO BLK-G5 series. The Q.PEAK DUO L-G7.2 series features their very efficient 12-busbar design in a larger size 144 HC cell solar panel for ground-mount and larger commercial solar panel systems that would have used 72-cell modules in the past.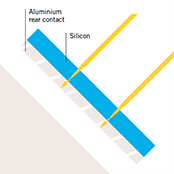 Standard polycrystalline solar panels waste light as heat.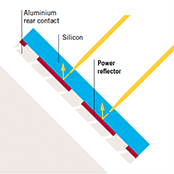 Q CELLS Q.ANTUM solar cell technology absorbs more power.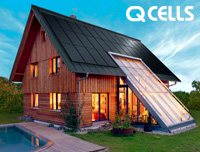 Engineered in Germany
With 385+ engineers/scientists and leading-edge technology, Hanwha provides top quality solutions, Intensive research, first-class materials, and very strict quality standards guarantee safe operation and high output in all weather conditions.
Intelligent Durable Design
The design of Q CELLS solar panels not only looks good, it is optimized to ensure maximum long-term efficiency, stability and security, while also keeping weight low. Strict test criteria and advanced technologies, such as Hot-Spot Protect and Q CELLS Anti PID Technology, ensure trouble-free operation and long term reliable current output with Q CELLS solar panels.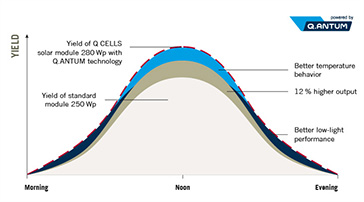 Hot or cold, Q CELLS solar panels deliver the highest performance where it matters most, 365 days a year, rain or shine.
Q CELLS Quality Production Control
All manufacturing facilities require permanent presence of HQC engineers on-site (supervised by German QM engineers).
Quality Sampling (supervised by German QM engineers)
Increased sampling at the module manufacturer site
1% visual inspection and wet leakage testing of total production per line daily
Daily 1 pcs for Grounding test / Reverse current test / High pot test
HQC on-site sampling
Quality Monitoring
Every month a random sample of 20 modules are tested by HQC Testing of OSC (optical sorting criteria)
Testing of performance (flash-test/ EL-inspection)
Determination of resistivity (wet leakage /high pot -test)
Quarterly 6 modules are tested for long-term stability (TC400/DH1500/PID)
More strict limit value for performance loss after all tests: max.5 % (IEC: 8 %)
Q CELLS Solar Panel Certifications and Quality Assurance
The strictest quality assurance for ultimate reliability
Three additional quality assurance programs instead of just one initial certification test.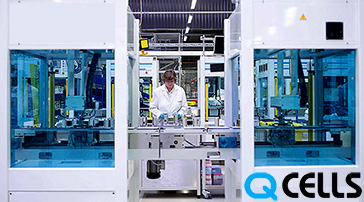 With 385+ engineers/scientists and leading-edge technology, top quality Q CELLS solutions are engineered in Germany
Q CELLS solar panels & systems at low wholesale prices.
Contact us toll-free: (877) 297-0014 - All Q CELLS solar systems can be custom designed.
Q CELLS Solar Systems
Residential Solar Systems
Contractor Discounts Available
Popular inverters we supply:

Contact us for sales, reviews and expert assistance with Q CELLS solar panels.