Solar Panel Carport Mounts - Solar Car Charging Stations
Solar Carport Mounts & Car Charging Stations
Wholesale modular, pre-fabricated and cantilevered carport shade structures for solar panels.

Schletter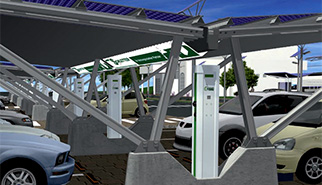 Schletter Park@Sol Carport
Tailored for most solar panel types
Flexible angle & orientation
Custom foundation options
Complete structural analysis
Schletter Park@Sol Modular Carport Mounts
Schletter carries a variety of designs for residential and commercial Park@Sol solar carport systems. Options include double and single row parking, customized foundations and optional sub-decking for waterproofing and preventing icicle formation. A powerful use of unused space for any home carport or commercial parking area.
Upsolar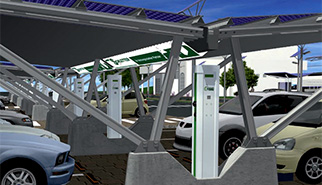 Upsolar Turnkey Solar Carport
Cantilevered steel parking structures
Full or double cantilever
Flush or tilted modules
On-site fabrication
Upsolar Cantilevered Steel Parking Structures
These are fabricated cantilevered steel parking structures are for small and large utility scale solar car parks. Starting at 750KW these carport systems include structural carport design, engineering, fabrication and installation of structures at the project site. Includes custom BOS and SMA Sunny Central Inverters.
Orion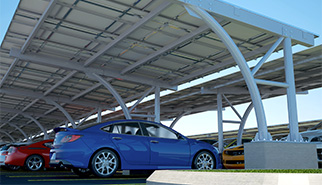 Orion Pre-fabricated, Scalable Solar Carport
Unique, patented aluminum base rail
Concrete piers protect structural steel
Add-on optional car charging units
Ideal for commercial & utility scale solar PV
Orion Scalable Pre-fabricated Solar Carports
Orion offers a structure and components that are pre-engineered and pre-fabricated to meet/exceed industry standards and prevailing building codes. This large-scale commercial carport solution features a unique, patented aluminum base rail and Quickstone technology to enable easier and faster installations with no welding required. Car charging stations available.
---
Complete Large and Small Carport Mounted Solar Systems Available:
Every solar carport solar system project is unique and so is Solar Electric Supply. With over 20 years of experience, we have the know-how, personalized service and competitive wholesale prices to make your solar carport mount project a success.
Contact us toll-free at

(877) 297-0014

for expert assistance and low wholesale prices for most solar carport mounts.