Ecoult UltraFlex Energy Storage Systems - Deka UltraBattery Price
Ecoult UltraFlex Energy Storage Systems
Para aplicaciones solares de residencial, comercial y para el aislados.

---
Tens of kWs - Ecoult UltraFlex w/ Deka UltraBattery Technology
With 17 kWh of usable storage at 60% range of charge and 20 kW of peak power, the high‑cycling, energy-efficient Ecoult™ UltraFlex™ 48 V system is safe and simple to deploy, operate, and maintain. The Ecoult UltraFlex energy storage system is ideal for partial-state-of-charge (PSoC) power applications where batteries may need to charge and discharge rapidly and frequently.
The Ecoult UltraFlex is the plug 'n' play energy storage device of choice for a range of applications and environments, including:
Residential
Small and medium commercial
Agricultural
Distributed infrastructure, e.g. mobile telecoms and utilities
Rugged and remote locations
UltraFlex Applications
Renewables Integration
Smoothing: Smoothing of renewable energy power sources
Feed-in management and ramp-rate control: Distributed management of renewable energy sources feeding into the electricity grid
Diesel and Off-Grid
Hybrid energy systems: Downsizing of diesel/fossil-fuel generators and reduction of generator use greatly lowers costs and fuel consumption reducing CO2 and other emissions
Remote-area power supply: Reliable off-grid renewable power solutions
Energy Shifting/Cost Control
Peak lopping/peak demand management: Shifting of energy availability to cover demand peaks
Energy arbitrage: Storage of off-peak energy for use during peak charge times
Revenue Generation
Frequency regulation: Provision of distributed grid ancillary services or demand response
Learn more about the UltraFlex 4 x 48V 20kW Energy Storage System.
Ecoult + Deka UltraBattery = Integrated Battery Solution
The Ecoult UltraFlex 48 V system offers both high power and high energy. Each Ecoult UltraFlex unit includes:
16 x Deka® UltraBattery® 12 V monoblocs with integrated monitors
System monitoring and control
Over-current protection on each string
Deka UltraBattery Energy Storage
The New Dimension in Lead Acid Battery Technology
The Deka UltraBattery is a hybrid, long-life lead-acid energy storage device. It combines the fast charging rates of an ultracapacitor technology with the energy storage potential of a lead-acid battery technology in a hybrid device with a single common electrolyte.
Combining these two technologies in one cell means that UltraBattery works efficiently in a Partial State of Charge (PSoC).
Compared with conventional VRLA batteries, UltraBattery provides more energy and costs less over its lifetime when used in variable power applications. The technology is more efficient, and is also safe and recyclable. The Deka UltraBattery can do it all, simultaneously in one application. UPS plus variability management? No problem. It's the true multipurpose battery.
UltraFlex System Features & Benefits

FEATURE

BENEFITS

MODULAR DESIGN

1, 2, 3 & 4 x 48 V string configurations possible, with up to 16 x 12 V Deka UltraBattery monoblocs per cabinet

Flexible sizing for different power and energy requirements

PLUG 'N' PLAY SOLUTION

Available pre-installed or pre-wired for integration onsite, depending on site accessibility

Reduced onsite labor and accelerated installation time

SMALL FOOTPRINT

Offers 20 kW power with a 43 in x 24 in footprint

Fewer batteries required, so space onsite is optimized

PASSIVE THERMAL DESIGN

Maximizes battery life by channeling airflow to promote operation within optimum temperature bands

Maximizes your business case and return on investment by reducing diverging effects of temperature on Deka UltraBattery cells

BATTERY MONITORING

Provides access to state of charge and other vital information to assist with operating the system within its optimal performance range

Be proactive – save time and cost on site by diagnosing issues remotely

OVER-CURRENT PROTECTION

Protects the system from excessive current and faults

Included switch fuses maximize safety and longevity of the batteries

RECYCLABILITY

The Deka UltraBattery is virtually 100% recyclable. Each of the three major components (lead, plastic, and acid) can be safely recycled and used in making new energy storage devices

Closed-loop recycling of Deka UltraBattery reduces the environmental footprint of your energy storage solution
Contact us toll-free: (877) 297-0014 for low wholesale prices for complete Ecoult UltraFlex energy storage systems.
OEM, Distributor, System Integrator, Government, VAR, Dealer, Contractor, MWBE, International, and Reseller discounts available.
Ecoult UltraFlex Energy Storage System Review

king of versatility
The Ecoult UltraFlex excels wherever there's a need for high power and sustained energy.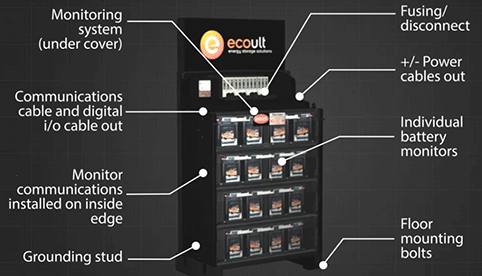 It's big enough to be serious – punching out 20 kW – but sized for pallet-jack delivery and able to find a spot on most sites.
Paired with a diesel generator, the Ecoult UltraFlex saves fuel. It charges and discharges quickly and continuously. The generator either doesn't run at all, or runs beautifully at peak rated output. It can be given predictable operating conditions and decoupled from the load while the battery handles all the vagaries and fluctuations.
Self-contained and robust, the Ecoult UltraFlex can also be moved from site to site – using the day's solar energy long after sunset.
The Ecoult UltraFlex is fully and remotely monitored, so if you want to see how the site is running, just open your browser. Alerts are sent to you – and to us if necessary – to be acted on before they become problems.
Ecoult designs and delivers energy storage solutions based on Deka UltraBattery® and other advanced battery technology. Ecoult's solutions support the integration of renewable generation onto grid systems and significantly enhance the efficiency of grid ancillary services.
Full and remote monitoring for 100% visibility
Monitoring means peace of mind
Ecoult energy storage systems are all fully monitored, meaning your time can be spent developing new business instead of travelling to site to check existing systems. If internet or 3G/4G coverage is available on site, you can see your installations and how they are performing at a glance on your phone or laptop – anywhere, anytime.
Learn more about the UltraFlex 4 x 48V 20kW Energy Storage System.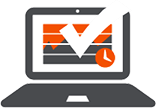 Related Product Information
Solar Electric Supply specializes in supplying dealer, contractor, government and industrial
accounts worldwide with reliable, cost-effective solar electric power solutions.
Contractor Discounts Available
Contact us toll-free: (877) 297-0014 for expert assistance, wholesale prices or
solar power systems with Ecoult UltraFlex UltraBattery energy storage systems.